Leeds men jailed for tobacco smuggled in flip flops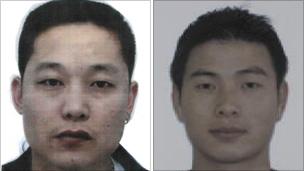 Two Leeds men who smuggled nearly 10 tonnes of counterfeit tobacco into the UK hidden in the soles of flip flops have been jailed for five years.
Jiang Ming Chen, 36 and Zhi Qing Cai, 34, were found guilty of evading excise duty by a jury at Leeds Crown Court.
The court was told the tobacco was hidden in the soles of 50,000 flip flops to be packaged into pouches for sale to the public.
The judge said it had been a professionally planned operation.
Chen, of Grasmere Court and Cai, of Waincliffe Mount, were caught by HM Revenue and Customs (HMRC) in April last year after they arranged delivery of flip flops to a city centre storage facility in Leeds.
Investigators uncovered two storage units filled with boxes of flip flops, a cover load for the loose tobacco concealed within each sole.
This discovery led HMRC officers to uncover a tobacco factory which was being run in the attic of Cai's home.
The operation was being run to produce counterfeit hand rolling tobacco which looked like the genuine product.
HMRC said it would then be sold on the Yorkshire black market to unsuspecting customers who thought they were simply getting a cheap deal.
Peter Hollier, HMRC's regional director for criminal investigations, said: "Cheap tobacco might seem like a bargain at the time, but this was packaged in less than clean conditions, and then passed off as the real thing, making it a much less attractive purchase."
Related Internet Links
The BBC is not responsible for the content of external sites.