Leeds free bus service faces axe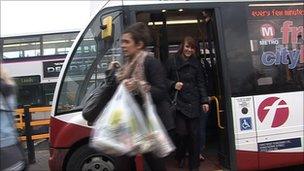 A free bus service that runs around Leeds city centre is facing the axe.
The city council shares the £370,000 annual operating costs with public transport provider Metro, but has decided to pull out to save money.
The council, which is Labour-controlled with support from the Green Party, has to find £90m of savings next year because of government funding cuts.
A Labour group spokesman said: "While we would like to keep this service it's not possible given budget constraints."
Councillor Richard Lewis, executive member for city development, added: "It is unfortunate that massive budget cuts imposed by the Tory/Lib Dem government have forced us to stop our contribution to the Free City bus.
"Having to find cuts of £90m in a single year has meant some very tough decisions.
"Surveys show that 75% of people who use the bus would walk if it was unavailable."
However, Liberal Democrat councillor Ryk Downes said the cost of running the service had been exaggerated.
"I have actually seen the budget figures which say that this service cost them nearly half a million pounds last year, whereas the reality is there were two years' figures.
"Next year it would only be about £170,000 and that is over £250,000 less than they were anticipating."
The decision to withdraw funding from the service will go before a full council meeting next month.
Related Internet Links
The BBC is not responsible for the content of external sites.