Chinese Olympic 2012 athletes head for Leeds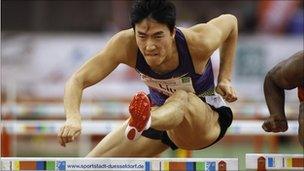 Athletes from China will be making their final preparations for Olympic glory at a training base in Leeds after selecting the city in the run-up to London 2012.
Officials from Leeds had travelled to China to secure the deal which will see track and field competitors training at the Metropolitan University's facility.
Dozens of athletes will make use of the facilities at the Headingley campus.
China topped the Beijing Olympic medals table with 100 medals, 51 of them gold.
Under the agreement, about 50 athletes and officials will be based at the university as they train and acclimatise to the conditions shortly before the games begin on 27 July 2012.
The team could include 100m hurdler Liu Xiang, who is a sporting superstar in the Far East.
He became one of the enduring images of the 2008 Beijing Olympics after breaking down on the track and being forced to pull out of the games due to injury.
Liu Xiang has marked his return to form by recording the third fastest time of the year in winning the Asia Games title in November 2010.
Dean of the Carnegie Faculty at Leeds Metropolitan University Gareth Davies said: "We are delighted to be working with the Chinese athletics team and are looking forward to hosting world-class athletes on our campus.
"It will give our students a great buzz to be training alongside Olympic hopefuls."
As well as training at Leeds Metropolitan University's Headingley campus, the squad will also have access to the John Charles Centre for Sport .
Lord Mayor of Leeds councillor Jim McKenna said: "This is absolutely fantastic news for the city of Leeds - a major coup to be the first UK city to say we are hosting a Chinese Olympic team.
"To be hosting athletes from such a major sporting nation is a great reflection not only on the fantastic facilities we have to offer but everything we have to offer as a city and place to stay.
"We look forward to welcoming our very special guests."
Related Internet Links
The BBC is not responsible for the content of external sites.