Fears revealed of 7 July backlash against Leeds Muslims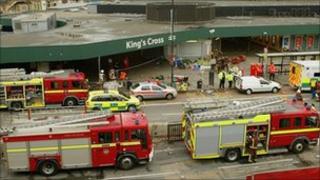 A former Leeds MP has revealed the government's fears of a backlash against city Muslims after the identity of the 7 July bombers was released.
John Battle has told the BBC he was woken in the night by the then Home Secretary Charles Clarke.
The former Leeds West MP said he was told to go straight to Leeds in case of violence, but found people were calm.
Three of the 7 July suicide bombers, Mohammed Siddique Khan, Shehzad Tanweer and Hasib Hussain, were from the city.
Mr Battle said: "There was a panic when it was revealed that people had been murdered by people from our own place, there was a fear there would be a backlash.
'Helped each other'
"I came back to Leeds and I think what encouraged me, and what has encouraged me ever since, was perhaps there was fears in the Home Office that Leeds people in all communities would be hotheads - and I was told to make sure people don't start breaking in windows, burning down mosques and carrying on in the streets.
"I came back and there was cool-headedness - Leeds people are very practical, calm people, actually.
"As far as I'm aware there were one or two stones thrown at one mosque in one neighbourhood, but other than that there was not the outbreak of violence that they thought would happen in London.
"People calmly responded and helped each other out."
Mr Battle spoke out as the inquest into the deaths of those killed in the 7 July attacks in London six years ago draws to a close.