Houses evacuated after Featherstone depot fire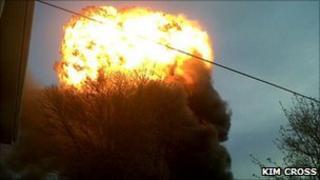 About 100 houses have been evacuated in West Yorkshire following a large fire at a transport depot.
The residents of Church Lane, in Featherstone, Pontefract, were told to leave their homes at about 1700 BST.
The fire service said two men had suffered minor injuries in the blaze at Welburn Transport.
Residents have been evacuated from the area because highly flammable acetylene gas cylinders found in the garage have exploded.
Rachael Smith a local residents said: "There were mini explosions, and big explosions.
"There were massive flames, black billowing smoke over the church, white smoke and some bangs.
"It was horrendous."