Tetley's tea folk tattooed on man's back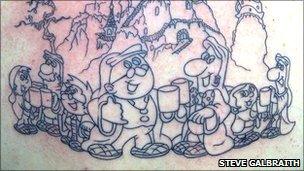 A man hopes to prove he is such a fan of one brand of tea that he is having the characters from the product's adverts tattooed on his back.
Andrew Blamires, from, Cleckheaton, West Yorkshire, already has one of the Tetley tea folk tattooed on his arm.
But now work has begun on a tattoo featuring all seven of the famous cartoon characters.
He said: "I had been thinking for years about getting a tattoo on my back and I thought I might as well have my favourite characters on there."
With a nickname of "Tetley", Mr Blamires, who reckons he drinks at least 10 mugs of his favourite brew a day, said his latest tattoo was a logical step.
The father-of-three said: "I do drink a lot of tea and I already have two tattoos of 'The Gaffer' on my arm."
Work on his tattoo is well under way, with a design featuring the well-known tea folk enjoying a cuppa in front of a fairytale castle.
Mr Blamires, 50, said he had made sure he had permission from his wife Janet before going ahead.
"She likes it. She isn't bothered at all," he said.
"She says: 'It is your skin, it is your body. If you want to do it, do it'."
However, before being able to enjoy his new tea folk tattoo, Mr Blamires, who is a full-time carer for his wife, must first endure a little discomfort.
"There are parts of your body where it is a little painful," he said.
"But once you get past the pain barrier then you can just go straight through."
Anand Gandesha, marketing manager for Tetley tea, said: "We have some major tea fans working here but certainly no-one who is willing to tattoo themselves in honour of the tea folk.
"Andrew is simply one of Britain's undisputed tea fans who has gone the extra mile to show his admiration of the tea folk is definitely skin deep."
Related Internet Links
The BBC is not responsible for the content of external sites.