Winging it on tour with Pigeon Detectives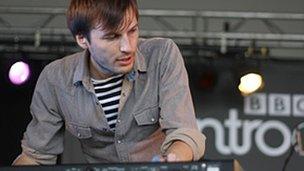 Riding the success of their first two albums on Leeds-based label Dance To The Radio, The Pigeon Detectives are currently on tour supporting their latest release. And this time they've taken four young local musicians on the road with them.
Sam Robson, Neil Clark, Lee Clark and Vijay Mistry make up the band Club Smith, who played on the BBC Introducing stage at the Reading & Leeds Festival last summer and are now continuing to play to large crowds on a string of dates across the UK.
"We started in Glasgow to a crowd of 1,200 and went down really well, which was a proper rush," said drummer Vijay when he spoke to Alan Raw on BBC Introducing in West Yorkshire.
"It all happened really quickly. We just found out at the last minute that they wanted us to go on tour with them."
This is the first tour of this scale the band has experienced so far, meaning it was time to ride in style.
"We had to beg, steal and borrow to make this tour happen, and we've managed to find a bus with two TVs and stack of DVDs in it!"
Being on tour with one of the biggest bands to come out of Leeds in recent times has its obvious perks, the biggest of all being the opportunity to get their music heard by a large amount of people.
"All we're aiming to do is just introduce ourselves and win a few people over," said Vijay. "I think Pigeon Detectives fans will like our music. Our bassist, Lee, even has a bit of a girly fan-club!"
Well, apparently that's stardom for you, and the way things are going for Club Smith, they might have to get used to it…
Club Smith release their debut single No Friend Of Mine/Young Defeatists on 6 June 2011 as a download and a double A sided 7" vinyl single.
Related Internet Links
The BBC is not responsible for the content of external sites.