Hull's new fleet of fuel-efficient buses hit the road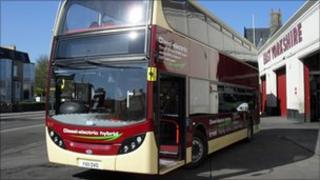 A new generation of fuel-efficient buses is taking to the road in Hull with 10 new vehicles bought with a £993,000 government grant.
The East Yorkshire Motor Services (EYMS) hybrid diesel/electric buses run on diesel with the battery kicking in when the bus brakes.
The first eight buses will be used on route 57, between Hessle, Hull city centre and Bilton.
"It's the most urban route we've got," said Peter Shipp, chairman of EYMS.
"You get the most fuel benefit from a highly urban, stop/start route.
"The more we use them the more fuel we save."
In the evenings and on Sundays the buses will also be used on other routes.
The new ADL Enviro 400H double-deckers, two more of which are on order, are expected to clock up around 60,000-miles-a-year.
Funding came from the Department for Transport's Green Bus Fund, and similar buses are being used in London, Sheffield and Newcastle.
Fund bosses hope to provide more than 500 new low-carbon buses across England by March next year.