Yorkshire TV advertising campaign to attract visitors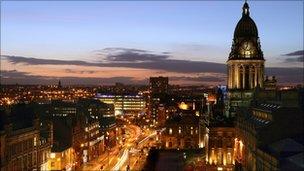 Welcome to Yorkshire has announced a new TV advertising campaign to attract more visitors to the county.
The plans were announced to about 1,000 tourist experts from across the UK at the Y 11 conference in Leeds.
The visitor agency claims tourism is now worth about £7bn from 216m visits to Yorkshire each year.
Gary Verity, Welcome to Yorkshire's chief executive, announced a new slogan of "So much, so near, so different. Have a brilliant Yorkshire".
Mr Verity said: "I can guarantee you this, Yorkshire's profile is going to be bigger and better than ever."
The tourism agency is also sponsoring several television shows including The Royal, a drama filmed in Yorkshire.
It is also hoped that The Dales, a new 12-part series presented by Bradford-born actor Adrian Edmondson, will inspire more people to visit the county.
Yorkshire's artistic heritage will be used as the theme for this year's entry for Welcome to Yorkshire at the RHS Chelsea Flower Show.
The tourism agency is hoping a garden taking inspiration from Yorkshire artists and those inspired by the county including Henry Moore, Barbara Hepworth, David Hockney, and JMW Turner will be a winner.
The impending Royal Wedding and Queen's Diamond Jubilee has also prompted the agency's Royal Yorkshire campaign highlighting Yorkshire locations with royal connections.
These include Harewood House, near Leeds, home to the 7th Earl of Harewood, cousin to the Queen.
Another stately home in Leeds, Temple Newsam, was the birthplace of Lord Darnley who became the husband of Mary Queen of Scots.
Wakefield was also the site of a War of the Roses battle that saw the downfall of the Duke of York.
The Y 11 conference at Leeds' Grand Theatre and Opera House highlighted the attractions of Yorkshire to the UK tourist industry.
Related Internet Links
The BBC is not responsible for the content of external sites.