New tax laws threaten to 'bankrupt' Bradford church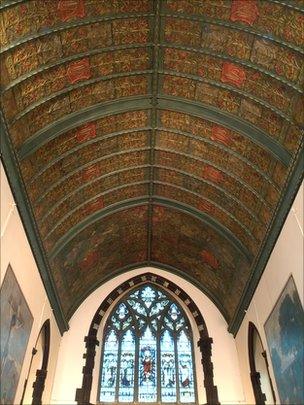 A Bradford vicar has warned that recent changes in VAT law could "bankrupt" his church by landing it with a crippling tax bill for major repairs.
The grade II listed St Clement's Church on Barkerend Road, renowned for its rare William Morris ceiling, is undergoing a £250,000 restoration.
Until 31 March, listed places of worship had VAT on repairs repaid in full, but that is no longer the case.
The vicar, the Reverend Dale Barton, said the final bill was now uncertain.
He said: "We are half way through a three-year, quarter of a million pound project to replace the roof and do other urgent repairs.
"The funding was covered by English Heritage and our own fundraising and now we're told that we will lose some of the money through tax.
"Until 31 March this year, listed places of worship had VAT on repairs repaid in full. For us that sum is £42,000.
"But it has now been decided that we will receive only an unpredictable proportion of this.
"That means that halfway through major building works, the church no longer has a fixed price contract. And if the proportion we receive back is very low, it could certainly bankrupt us."
Mr Barton said the new law meant the church could no longer afford to fix high-level windows or steps which were leaking water into the basement.
"The architect says that within a few years these steps will collapse," he said.
"The beautiful painted ceiling by William Morris can't be lit because the electrics are unsafe and and we now don't know how much the final bill for roof repairs is.
"We love welcoming people and we rejoice that St Clement's is such a beautiful building, but is heritage value a blessing or a curse?"
Related Internet Links
The BBC is not responsible for the content of external sites.