Leeds diocese attacks Playhouse poster's religious image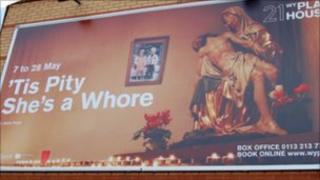 A poster promoting a play about incest has been criticised by the Roman Catholic Diocese of Leeds for using an image of Christ and the Virgin Mary.
The billboard poster is being used to promote West Yorkshire Playhouse's new production of a 17th Century play Tis Pity She's a Whore.
John Grady, from the diocese, described it as "crass" and a "marketing stunt".
The Playhouse said people had misinterpreted the poster.
The play, written by John Ford, tells the story of a brother and sister involved in an incestuous relationship.
Mr Grady said the diocese had received a number of complaints from people who were "distressed and outraged" by the poster and its use in the approach to Easter.
"To choose that particular image at this point in time is in my mind, I think, calculated," he said.
"I think it's cynical, I think it's crass, I think it's insensitive.
"What are they saying to the people of Leeds, to the very people who are paying their taxes and rates, that they really don't give any thought to offending people in such an offensive way and at such a prominent time of year as long as they can get a cheap marketing stunt."
Nick Bowden, head of marketing for West Yorkshire Playhouse, said the poster was not intended to cause offence.
"We've been surprised by how deeply upset people have been.
"It is a misreading of the poster. It is about the photo of the children on it and that's who the title of the play relates to."
Mr Bowden said the image of Christ and the Virgin Mary was used because the play had a religious element.
"The Playhouse would never produce an image just to provoke a response, it wouldn't be about gaining publicity."