Sweet result for West Yorkshire Haribo factory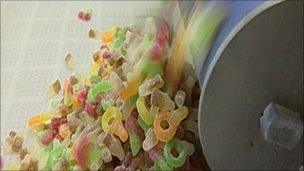 Sweets giant Haribo is set to expand its West Yorkshire factory after receiving a grant from the government.
The purveyor of gummy bears and cola bottles is building a second factory at the site in Normanton, and expects to create 286 new jobs.
Wakefield Council, David Brown Gear Systems and Deafinitions Ltd were the other West Yorkshire recipients of the Regional Growth Fund (RGF) grants.
The RGF is a £1.4bn fund to help create private sector jobs.
Around £450m was allocated to 50 private sector firms or public-private partnerships across the country in the first round of funding, the results of which were announced this morning.
The second bidding round is now open to disburse the remaining amount.
Business Secretary Vince Secretary said the Haribo factory "would probably have closed down and moved somewhere else" without the additional investment.
He claimed the grant had safeguarded the existing 478 jobs as well as creating new work opportunities.
Wakefield Council received £8.1m for a regeneration scheme in the south-east area of Wakefield and Featherstone.
It will go towards building 818 new homes, including 227 affordable homes, as well as infrastructure and access route improvements.
The council expects the funding will create 107 construction jobs for a five-year period and 69 apprenticeships.
Deaftronics Ltd, a Bradford-based social enterprise company that primarily employs deaf people, received a grant of an undisclosed amount to create educational health videos.
Engineering firm David Brown Gear Systems put in a successful bid for a £2m grant to develop a wind gearbox research and development centre in Huddersfield.
Ian Farquar, managing director of the wind division at David Brown said the centre "will drive engineering innovation in Yorkshire".
Among the losers in the RTF process were Castleford Interchange and the Prince of Wales Colliery in Pontefract.
The latter has been shut since 2002, and Wakefield Council are looking to redevelop the site.
Overall there were 7 successful RGF bids in Yorkshire and Humber.
The government expects 7,628 direct jobs and 2,716 indirect jobs to be created or protected in the region.