Leeds Student Television wins top national award again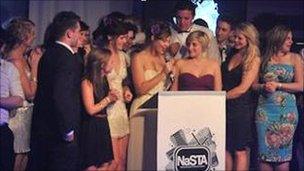 Leeds Student Television (LSTV) has won a national award as Best Broadcaster for the third year running.
The station also won awards for a children's science programme and a 19th Century costume drama.
LSTV gained seven awards in total at the National Student Television Awards in Loughborough.
Station Manager Alice Salfield said: "It's really important that we keep having fun, making great programmes and pushing the boundaries of student TV.
"It's very difficult to get into television and this gives you the opportunity to do it."
The 2011 awards attracted entries from 33 university broadcasters.
Miss Salfield, 23, who has just finished her three-year stint at the station and is about to leave the University of Leeds, said the station had about 200 members with a core of 50 heavily involved.
She added: "I couldn't recommend student TV highly enough. It's the most amount of fun I've had up to now in my life."
The station is funded by a grant from Leeds University Union and also undertakes its own fundraising, including selling footage to TV organisations and offloading old equipment online.
Miss Salfield is currently working with Channel 4 News and other recent members of the station have gone on to start media jobs.
Student television in Leeds started in the 1970s as students formed Network 4.
It broadcast black and white programmes on a closed circuit around the university.
Eventually those students decided to turn to radio, forming Leeds Student Radio.
Leeds University Union Television started before changing its name to LSTV and has operated since 2004.
Related Internet Links
The BBC is not responsible for the content of external sites.