Club's protest over Bradford pool closure threat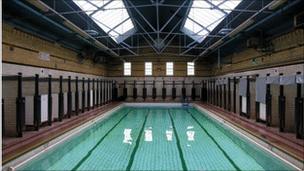 A swimming club which has used a Bradford pool for more than 30 years has protested over plans to close it.
Bradford Council is proposing to shut Rhodesway and Manningham pools because of cuts in government funding.
Members of Bradford Dolphin Swimming Club, which uses Rhodesway for its training, held a demonstration at the pool on Wednesday.
The Labour-controlled council said a consultation was under way to find organisations to run the pools.
Donna Patrick, committee member for the Dolphins, said: "There have been so many rumours about what is happening with Rhodesway that we don't really feel the council has informed us what's going on.
"It is a brilliant pool, it's in excellent condition and there must be some other way of keeping it open.
"What would happen if it closed? The building would probably just lie empty, which would be such a waste."
Ms Patrick said the Dolphins, which has more than 100 members, had trained at Rhodesway for more than 30 years and it was the most suitable pool because of its 25m (82ft) size.
"If it closes it will be difficult for us to find somewhere else to train."
Phil Barker, the council's assistant director for sport and leisure services, said: "Discussions about retaining Rhodesway pool as a community asset remain ongoing and we hope they lead to a successful conclusion.
"Otherwise the pool, which is the second least-used swimming pool in the district, will close at a date yet to be decided."
Council leader Ian Greenwood said the Manningham baths needed "expensive modernisation" and closure would save the authority around £120,000.
Adrian Naylor, the conservative shadow spokesman for economic development and finance at the council said: "I think the time pressure is extreme and the council is pressing ahead on their own time scale without consultation."
Mr Naylor said in the "grand scheme" the savings made by the closure of the pool were not much and could have been found through "back office savings, protecting the front-line services such as pools".
Related Internet Links
The BBC is not responsible for the content of external sites.