Plans for new Mirfield monastery go to Kirklees Council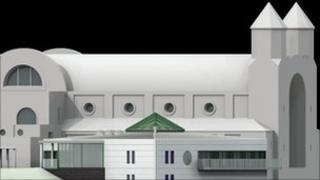 A new monastery could be built in West Yorkshire if plans are approved by Kirklees Council.
The 21 brothers of the Community of the Resurrection want the new building to stand within the existing grounds on Stocks Bank Road in Mirfield.
The existing 19th Century building could be used for conversion into flats to help fund the project.
The plans have been submitted to the Planning Sub-Committee of Kirklees Council.
"We want to build for the future of the community and for the many people who come here for guidance, rest or support," said the Superior, Father George Guiver.
Energy needs
The proposed design was published in 2010, and it is intended that eventually its energy needs will be met from sustainable sources.
The monastery will incorporate facilities for sick or infirm brothers, and guest facilities for some of the many people who come to stay.
Father George said: "Our community house is in poor condition, needs major refurbishment and is wasteful and expensive to run in its present state."
The Community of the Resurrection is an Anglican monastic order founded in the late 19th century, and based in the West Riding of Yorkshire since 1898 when its members chose to base themselves in the heartland of British industry.
The community founded the College of the Resurrection, on the same site, which trains candidates for priesthood in the Church of England and other Anglican churches worldwide.