Leeds-Liverpool canal boaters told to go in pairs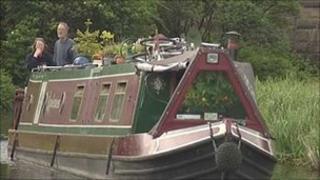 British Waterways is urging boaters on the Leeds-Liverpool canal to go through locks two at a time.
The organisation is putting preventative measures in place to conserve water after a recent dry spell.
Canal users are being encouraged to be diligent and ensure they do not waste water.
It wants to avoid a repeat of last year, when it had to close part of the canal to replenish reservoirs.
A British Waterways spokesperson said it was "optimistic" that it would not have to close the canal this year.
However, she added: "Water resources are scarcer across the country and it's important that canal users take due care."
The Leeds-Liverpool canal is built on a slope with the reservoirs at the top and the water flowing out into the River Aire.
By doubling up each time they pass through a lock, canal boaters minimise the amount of water that is taken from the reservoirs.