Playhouse poster replaced after Leeds diocese criticism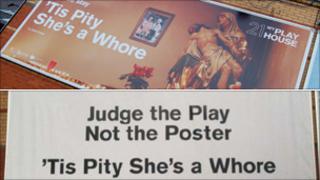 A poster promoting a play about incest has been replaced after complaints by the Roman Catholic Diocese of Leeds about its use of religious imagery.
West Yorkshire Playhouse's advert for its new production of the 17th Century play Tis Pity She's a Whore featured an image of Christ and the Virgin Mary.
It has now been replaced after complaints from some local people and a letter from the Bishop of Leeds.
The Playhouse said it regretted any offence caused by the original poster.
The play, written by John Ford, tells the story of a brother and sister involved in an incestuous relationship.
'Unpredicted turn'
Speaking earlier this month, John Grady, from the diocese, said it had received complaints from people who were "distressed and outraged" by the poster and its use in the approach to Easter.
The Playhouse said the poster was "intended to represent a sacristy".
It said: "The focus of the image, and therefore at the centre of the poster is the picture of the children holding hands, the suggestion being that candles are being lit and prayers given in the sacristy for these children.
"The validity and relevance of the Pieta image depicting John Ford's controversial 1633 play remains, and will still be seen on promotional material."
It added: "With any production we constantly reassess our strategy as rehearsals develop and work on the show progresses.
"The promotion for this show has taken an unpredicted turn.
"We have amended our campaign accordingly and invite people to judge not the poster but the play."