Yorkshire bikers targeted in drive to cut road deaths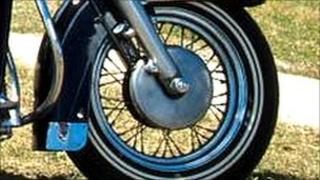 Motorcyclists in Yorkshire are the target of a new safety campaign aimed at cutting the number of deaths and injuries on the roads.
Road safety organisations and police forces across the region are teaming up to give roadside education to bikers.
Police are to use "a range of tactics" to catch dangerous riders, including using unmarked vehicles.
Bikers make up 20% of serious road accident casualties in the Yorkshire and Humber region.
However they make up only 1% of road users.
'Extreme element'
Dave Glanville, motorcycle road safety officer for West Yorkshire, said: "We recognise that most riders are safe, responsible and keen to enjoy their riding without putting themselves or others in danger.
"But there is still an extreme element of the riding community who want to use our roads as a race track."
Police figures show 528 motorcyclists or their passengers were killed or seriously injured on roads in Yorkshire and the Humber in 2009.
As part of the new campaign, a new mobile phone application will be launched to help riders plan their routes, along with the publication of a bikers' guide to North Yorkshire, an area particularly popular with motorcyclists.