Water firm's promise on supplies in Yorkshire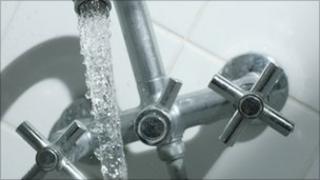 A water company has said that even if the rest of spring and summer turns out to be as dry as 1995, there will be no water restrictions in Yorkshire.
In 1995 the drought proved a disastrous year for Yorkshire Water.
Reservoirs were full at the end of March, but a leaking pipework and dry conditions saw parts of the county within days of running out of water.
Drinking water was tankered in from Kielder reservoir in Northumberland to West Yorkshire to help.
Since then the company said it has fixed most of its leaky pipes, and spent £300m in developing its underground pipe network.
Main sources
This allows water to be pumped around the county from three main sources.
In the west of the region reservoirs capture Pennine rainfall while in the north they can extract water from several rivers including the Ouse.
In the east the company can take ground water from bore holes.
Despite March being the driest since 1994 in Bradford, and April so far exceptionally dry, February was a very wet month, and it was largely because of that rainfall that water stocks currently stand at 84%.
The company say that should the drought be worse than that experienced in 1995 then they may have to review the situation, and they advise all their customers to conserve water at any time of the year.