Cyclist injured by Hebden Bridge pothole awarded £2k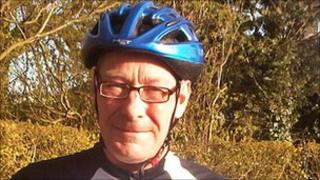 A cyclist has been given £2,000 in compensation after he was thrown off his bicycle when it hit a pothole in West Yorkshire.
Peter Lodge, 52, needed treatment for cuts after the accident near his home in Hebden Bridge in 2008.
The pothole had formed around a Yorkshire Water valve, creating a gap between the metal box and the road, Mr Lodge's solicitor said.
Yorkshire Water said it settled the matter before it went to court.
A company spokesman said: "We were sorry to hear about Mr Lodge's accident and would like to reassure customers that the pothole in the road caused by a sunken valve cover was repaired back in October 2008, shortly after the incident happened.
"We take public safety seriously and when we are aware of any such problems, we endeavour to carry out repairs as soon as possible, so to avoid any potential incidents like this."
'Serious risk'
Mr Lodge said: "Unfortunately, the condition of the road between Hebden Bridge and Todmorden presents a serious threat to cyclists as it is full of potholes and is badly surfaced.
"While this is obviously unpleasant for drivers, cyclists not only risk having a nasty fall but could then easily be hit by a car.
"I hate to think what might have happened if I had been thrown off my bike just an hour earlier during the rush hour."
The maintenance of the area around the tap is the responsibility of Yorkshire Water.
Sara Heppenstall, the solicitor at Russell Jones & Walker representing Mr Lodge, said: "Potholes present a serious risk for all road-users, causing damage to cars and injury to cyclists.
"Had Yorkshire Water dealt with the defect by their water tap as soon as the problem arose, this accident could easily have been avoided."
The Cyclist's Touring Club (CTC), which funded Mr Lodge's legal advice, urged cyclists to report potholes on its website so that the information could be passed on to local authorities.