Cameras prevent attacks on Leeds traffic wardens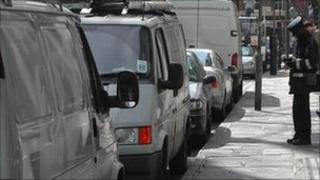 Attacks on traffic wardens in Leeds have dropped by 30% since the introduction of personal cameras.
Leeds City Council spent £5,500 buying the 10 shoulder-mounted cameras last year.
Wardens wear them to try to deter and identify drivers who vent their frustration on staff after receiving tickets.
The number of incidents of abuse dropped from 172 in 2009 to 120 in 2010, the council said.
Leeds Parking Enforcement Manager Robert Floyd claimed there has been a further 26% reduction in the first quarter of 2011.
He said his department had measured the number of incidents by area and decided they had to do something about it.
"Most often it's verbal abuse or verbal threats, but we do have the odd physical attack as well," he said.
One civic enforcement officer, who did not want to be named, said he had noticed a change in people's attitude since he got the camera.
"They're aware that they may be getting filmed so they're less aggressive."