Funeral for father of Saudi Arabia death fall woman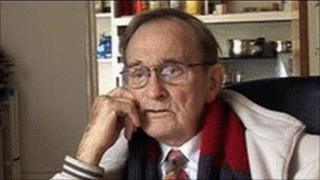 The funeral of a man who battled for over 30 years to prove his daughter was murdered is to be held in West Yorkshire.
Ron Smith, from Leeds, believed Helen Smith had died in suspicious circumstances at an illegal drinks party in Jeddah, Saudi Arabia in 1979.
The 23-year-old nurse fell 70ft from a balcony along with a Dutch sea captain.
Mr Smith died earlier this month aged 83 without managing to overturn the Saudi verdict of accidental death.
Laid to rest
He made history when he persuaded the British authorities to hold an inquest into the deaths in 1982, but it returned an open verdict.
The former policeman finally allowed her body to be cremated in 2009, having previously insisted it was kept in the mortuary to be used as forensic evidence.
At the time, it was thought to be the longest time a body had remained unburied in Britain.
Mr Smith will be cremated later at Wakefield Crematorium, where his daughter's funeral also took place.