Bird nests in ashtray at Fairburn Ings nature reserve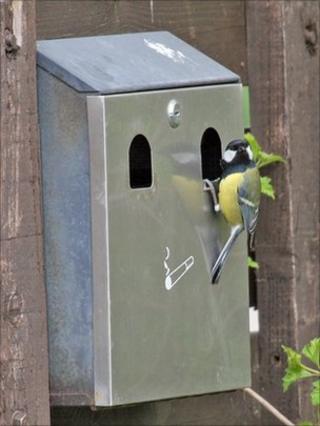 A bird's hopes for a dream home almost went up in smoke after choosing to build its nest in a cigarette bin.
The great tit sized up the spot at the RSPB's Fairburn Ings nature reserve in Castleford, West Yorkshire, ahead of breeding season.
The tit has now provided an incentive for visitors to the attraction to kick the habit after it was seen moving in.
The ashtray has been put out of bounds for a few weeks until the birds have left the area.
Laura Bentley, RSPB Fairburn Ings visitor manager, said: "We'd seen a few birds checking out the ashtray and we did wonder whether they might be considering it for a nest site.
"We found moss and nesting material nearby and when we peered through when the bird had left the area it was clear a nest had been built inside.
"Although it might not be an obvious choice, we're delighted they've chosen this spot to try and raise their young.
"However, smokers beware, we are an ashtray down as obviously we've had to make sure no-one else uses it for a while."