West Yorkshire heroin shortage 'may lead to overdoses'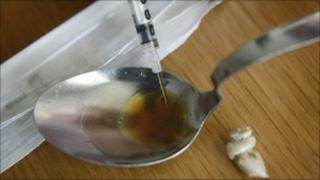 A shortage of heroin could lead to users overdosing when supplies pick up, West Yorkshire police have warned.
According to the force's drug coordinator Bryan Dent, the purity of heroin currently averages about 28%, down several percentage points from the usual level.
A shortage is causing dealers to heavily dilute supplies, police said.
"If and when purity improves users will be caught off guard, which raises the potential of overdosing," Mr Dent said.
He added: "We're always keen and pleased to stop heroin coming into the UK and West Yorkshire, but it is a double-edged sword."
The drop in supply is thought to be partly down to a disease affecting opium crops in Afghanistan.
Drug drought
John Royle, chief executive of the Bridge Project which works with drug addicts in Bradford, has also heard from his clients that heroin is unusually scarce.
"Drug users call this a drought and it does happen periodically, but this is the most extensive drought we've seen in many years," he said.
"You might think less heroin, less people buying drugs and less crime, but unfortunately that's not the case."
Although Mr Royal said drug addicts continue to seek out heroin and may have to buy more when purity is reduced, he also suggested the shortage may also push some to seek help.
One heroin user, who spoke anonymously, said he had already noticed a number of addicts had put weight on, indicating they were using less.
"It's helping people really. There's people out there who don't want to be doing it but have been sucked into it," he said.