Huddersfield Town cycle with Dean to the Withdean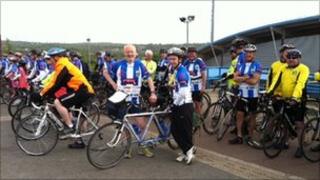 About 170 cyclists have left Huddersfield Town Football Club for the 270-mile journey to Brighton to raise money for Yorkshire Air Ambulance.
The group set out from the Galpharm stadium and plan to arrive in Brighton at the Withdean ground for the clubs' match on Saturday.
Riders on the With Dean to the Withdean trip include the club's chairman Dean Hoyle and ex-player Andy Booth.
Dean Hoyle said he was "very apprehensive" having done no training.
BBC Radio Leeds' Huddersfield commentator Paul Ogden, a keen cyclist, is also among the group.
Usual commentary
When he arrives at the ground at about 1230 BST on Saturday he will then provide his usual commentary on the match for listeners to BBC Radio Leeds.
The group hope to average about 70 miles per day during the ride and will be riding through London during the royal wedding.
All the cyclists have pledged £1,000 to the Keep It Up campaign that supports the Yorkshire Air Ambulance and Huddersfield Town Academy.
The match is important in the promotion race as Huddersfield Town currently are third in Football League One and Brighton are top.
This year's ride is much bigger than last year when a group of 23 riders cycled to Huddersfield's game at Southend.