Wainstalls moorland fires burn for third day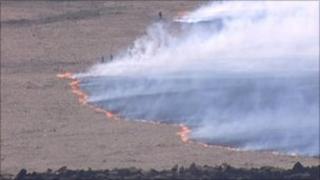 Firefighters have continued to tackle a moorland fire near Halifax which has been burning for three days.
Strong winds have been fanning the flames on moors above Cold Edge Road, Wainstalls, since Saturday, West Yorkshire Fire Service said.
At its height, 30 firefighters were involved in the operation to contain the blaze. Twenty remained there on Monday as the fire continued to burn.
The cause of the fire has not yet been established, the fire service said.
Firefighters were expected to leave the moor at nightfall due to safety reasons.
A West Yorkshire Fire Service spokeswoman urged people visiting the moors to "use common sense" during the current dry spell in order to avoid starting fires by accident.
"We don't want people going on to the moors and having barbeques," she said.
"We were stretched to the limit on Sunday with more than 150 separate incidents of grass and moor fires right across the county.
"Because of the winds each time we're called out we have to have three or four pumps at each incident."
West Yorkshire fire crews were also helping their colleagues in Lancashire tackle moorland fires near Bacup which have been burning for four days.