Dewsbury bookie, George Carrigill on 50th anniversary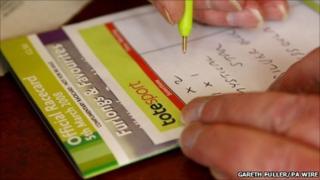 One of Britain's oldest bookmakers, George Carrigill from Dewsbury, is marking this week's 50th anniversary of the legalisation of betting shops.
At 78 years old he still works seven days a week and gets up at 0630 every day.
He started taking bets 57 years ago before it was legalised, but now runs six shops in the Dewsbury area.
He said: "You don't have all the mathematics that you used to have, you had to be whizz kids at figures."
The modernisation and respectability of betting shops has come a long way from their early beginnings.
Attractive shops
Mr Carrigill remembers that even at the point of legalisation businesses were not allowed to make their shops attractive.
No tables or chairs were allowed, or much decoration inside and no open or clear windows that might prove to be an inducement to bet.
He said: "We bet illegally but we paid our dues and demands and produced accounts, paid the Inland Revenue and didn't attempt to hide."
Nowadays, the shops are light and bright, smoke-free and aim to be far more welcoming.
But it is a safe bet that after 50 years of legalised trading, George is not thinking of retirement.
He said: "It's a word in my dictionary that is scratched out. I don't have a salary, my job is my hobby and my hobby is my job, and I just love the involvement in it."