Pc killer David Bieber loses bid to sue authorities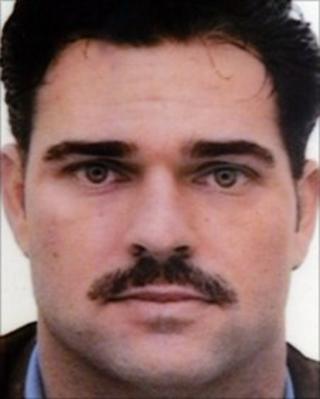 A policeman's killer has failed in his bid to sue prison authorities over the way they handled a jail switch when they were warned of an escape plan.
Former US marine David Bieber was jailed for life for shooting Pc Ian Broadhurst in Leeds in 2003.
He was taken from Full Sutton Prison near York to Belmarsh Prison after a tip-off an escape attempt was imminent.
Bieber was trying to sue authorities after officers searched legal documents in his cell without him being present.
The 45-year-old had his High Court application for a judicial review rejected.
A court hearing in Leeds was told Bieber, who claimed legal aid, was whisked from Full Sutton to Belmarsh Prison in London last August following a tip-off from the Serious Organised Crime Agency.
Officers then checked through seven bags of documents in his cell, which Bieber claimed was unlawful.
His legal team argued his papers should have been bagged, sent to Belmarsh Prison and sifted in his presence.
'Serious' threat
Kate Grange, defending the claim, said in normal circumstances a prisoner would be present during a search, but in emergency situations there were exceptions.
She said that clearly-marked legal papers were not read, and that searching his affairs was necessary to assess his escape risk.
Mr Justice McCombe, sitting in Leeds, said: "He was being detained at HMP Full Sutton and information came to the attention of the prison authorities that an escape was being planned.
"The Secretary of State considered that evidence was credible and the threat was a serious one."
The judge added: "In my judgement this is a case where the prison authorities cannot be sensibly criticised for what occurred."
Bieber is still pursuing another claim against the prison authorities, challenging his status as an "exceptional escape risk".
The only other inmate in the country with the same status is Nottingham gangland boss Colin Gunn.
Bieber went on the run after killing Pc Broadhurst and injuring his colleague Pc Neil Roper.
The officers had questioned him in their patrol car about his stolen BMW.
He was found guilty of murder in 2004 and jailed for life with a recommendation he should never be released.