Memorial to dog rescue girl Natasha Elliott unveiled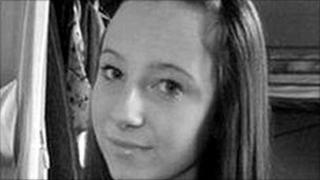 A memorial to a 16-year-old girl from Leeds who died on a railway line while trying to rescue her dog is to be unveiled by her family.
Natasha Elliott was hit by a train while trying to get her dog off the track near Morley station in May 2010.
A bust of Natasha's head and shoulders will be unveiled near the Central Methodist Church on Wesley Street, Morley, on Sunday.
Natasha's friends and family will attend the dedication ceremony.
The bust has been created by Leeds artist Melanie Wilks.
Natasha's grandmother, Jennifer Elliott, said the unveiling of the sculpture was an important step for the whole family.
"Once it is done then we can move on a bit. It just means a lot to us all," she said.
'Really beautiful'
Tony Elliott, Natasha's grandfather, said the sculpture was a fitting memorial to his granddaughter.
"It is like looking at Natasha. It is beautiful, really beautiful," he said.
Mr Elliott said he hoped the bust would serve as a warning to others.
He said: "Children will look at it and I hope their parents will be able to tell them the story.
"I hope they will tell them never to play on, or go near, the railway - even if their dog goes on."
Mrs Elliott said Natasha's friends had yet to see the bust but knew they would approve.
"I think there will be a lot of tears from them," she said.