New Barbara Hepworth gallery opens in Wakefield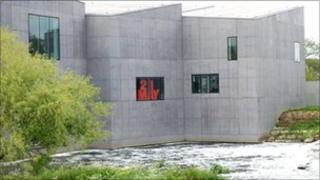 A new £35m art gallery has opened in West Yorkshire celebrating sculptor Dame Barbara Hepworth.
About 10,000 visitors are expected to visit the Hepworth Wakefield on its first weekend.
It is hoped the gallery will add about £3m to the local economy and attract 150,000 visitors in its first year.
Chairman of the Hepworth Trust, David Liddiment said: "It feels fantastic to finally open those doors."
'Sculpture capital'
He said: "It's an international standard gallery it's showing things that are unique and it's bringing Barbara Hepworth back to Yorkshire where she was born and which shaped her influences.
"People are going to be coming not just from London, not just from Scotland not just from the United Kingdom they're going to be coming from all over Europe to see this place.
"Who else might be a talent waiting to be inspired when they walk into this gallery to see what can happen."
Dame Barbara's family have donated more than 40 prototypes to the complex which also features work by her contemporary Henry Moore, who was born in nearby Castleford.
Built alongside a weir on the river Calder, the gallery is thought to be the largest purpose-built gallery to open in the UK since 1968.
Wakefield Council leader Peter Box said: "The real debate is the effect on the local economy.
"Wakefield is a better place for the Hepworth."
The gallery has been built as the centrepiece to the city's £100m regeneration.
Wakefield is also home to the Yorkshire Sculpture Park and Leeds has the Henry Moore Institute, leading to claims by some that West Yorkshire is the sculpture capital of the UK.