Mitchell and Kenyon rugby film reels recognised by UN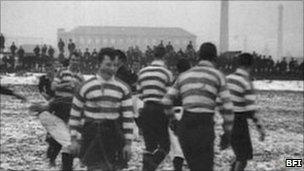 Old film negatives found in a basement in Blackburn in the early 1990s turned out to be a treasure trove of history.
The 800-reel Mitchell and Kenyon collection was discovered by historian Peter Worden.
Of the films, 20 were captured at Northern Union (now rugby league) matches.
Many of the matches filmed took place in West Yorkshire, one of the heartlands of rugby league.
Tony Collins, director of the International Centre for Sports History, said: "It is the earliest known footage of any form of rugby."
"You can actually see how the game was played, no amount of description in newspapers can tell you that.
"It really is a time tunnel."
Sagar Mitchell and James Kenyon's footage has been listed on the Unesco UK Memory of the World Register created to support historical archives.
The silent films include glimpses of a Hunslet versus Leeds derby, while Dewsbury, Halifax and Manningham are also captured.
The first moving film of a Challenge Cup final was shot at Headingley with a 1903 record crowd of 32,500.
The film from Hunslet shows Albert Goldthorpe in action for the home team. Goldthorpe was one of the early stars of rugby league.
The Northern Union, having been formed in Huddersfield in 1895, was less than a decade old when these films were shot between 1901-03.
They were taken at places where crowds gathered and were then played later at a local cinema or fairground.
Heather Stewart, creative director at the British Film Institute, which restored the films, said: "The film-makers never intended their films to last but they have become the single most important source for modern British history."
Related Internet Links
The BBC is not responsible for the content of external sites.