Bradford cemetery lit up to celebrate city's heritage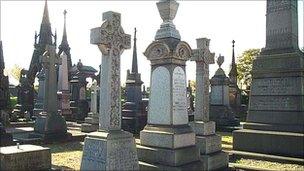 A student from Bradford hopes to celebrate her city's heritage by illuminating one of its major landmarks - a vast Victorian cemetery.
Emily Kecic, 22, has arranged for Undercliffe Cemetery to be lit up to highlight the ornate artwork adorning many of its 23,000 graves and tombs.
Ms Kecic said she wanted to challenge negative perceptions of Bradford.
She said: "When you have something you are proud of in your city you should celebrate it and show it off."
Ms Kecic will illuminate three sections of Undercliffe Cemetery, which is on a hillside overlooking Bradford city centre, with coloured lights from 2000 BST until late into the night.
She plans to give a candle to each visitor so they can closely inspect the graves.
Ms Kecic said she hoped people would realise Bradford was a city to be proud of.
"I'm from Bradford and every time I mention that people wince," she said.
"With the shooting of Pc Beshenivsky, the riots, the so-called Crossbow Cannibal, and even the Yorkshire Ripper, there's a lot of negativity.
"I wanted to do something about that."
Ms Kecic, a performance theatre student at York St John University, said she had noticed how many big names and prestigious Bradford families had chosen to be buried at Undercliffe.
"They wanted to be buried there because they wanted to spend eternity overlooking the whole city," she said.
"I had the idea to softly illuminate it, not only to show the finest artworks but to bring the community together to remember why the people buried there were so proud of their city."
Related Internet Links
The BBC is not responsible for the content of external sites.