Harewood House origins found by student archaeologists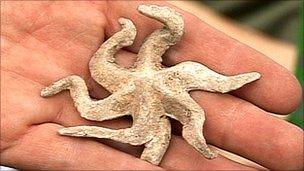 Hundreds of artefacts dating from the Middle Ages to the 18th Century have been discovered by archaeology students working at Harewood House in Leeds.
The students, from York University, have excavated the remains of Gawthorpe Hall, a medieval manor in the grounds of what is now Harewood House.
The items found include a 15th Century coin and an 18th Century chamber pot.
It is hoped the finds will give fresh insight into the origins of Harewood House, which was finished in 1771.
Gawthorpe Hall was demolished by 1773, its remaining traces filled with rubble and covered with turf.
Jonathan Finch, archaeology lecturer at York University, said a picture of life at Gawthorpe Hall had emerged during the three-week excavation.
"The story is really one of increasing emphasis on luxury for the manorial elite," he said.
"It's one of increasing leisure time and of enjoying the countryside.
"There are quite a lot of expensive ceramics coming from the main house, but we are also getting an idea about how the ordinary servants would have lived."
Other artefacts discovered by the students include a gilt star, decorative glassware, wine bottle fragments and even a flint arrowhead dating back to pre-history.
Archaeology student Florence Laino said the dig was an invaluable contribution to her studies.
She said: "This is my first excavation so I'm going to be able to take what I've learned here to other places and say I have already got this experience."
Finds from the excavation will be revealed to the public for the first time at Harewood's Medieval Festival in July.
Related Internet Links
The BBC is not responsible for the content of external sites.