Yorkshire projects in the National Lottery Awards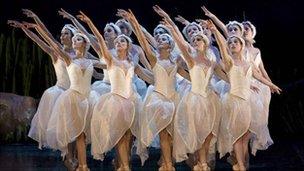 Four Yorkshire based organisations need your vote in the National Lottery Awards.
They are about to go head to head with other National Lottery-funded projects from across the UK in the semi-finals of The National Lottery Awards 2011.
The Awards recognise the difference that Lottery-funded projects - both big and small - make to local communities.
These semi-finalists have been shortlisted for the big difference they have made with Lottery money.
People in the region are being urged to cast a vote, from Tuesday 31 May 2011, to help them make it through to the final.
The semi-finalists from Leeds and West Yorkshire are:
Calderdale Council Midnight League - competing for Best Sport Project
Originally a football league, the project works with young people between the ages of 12 and 19 in a variety of sporting and fun activities with a focus on reducing anti-social behaviour, empowering and developing young people and removing the barriers to participation. To register your vote for Calderdale Council Midnight League call 0844 836 9720 or log on to the awards homepage.
Connecting Communities Project - competing for Best Sport Project
The Connecting Communities Project aims to work with over-14s from Leeds and the surrounding area using sport and physical activities in order to widen participation, support better community relations, as well as gender equality, and promote cultural understanding. To register your vote for Connecting Communities Project call 0844 836 9722 or log on to the awards homepage.
Altogether Better Programme - competing for Best Health Project
Altogether Better is a programme of 16 local projects that recruit, train and support community and workplace 'Community Health Champions' across Yorkshire and the Humber. Community Health Champions are local people who use their own unique skills, knowledge and experience to motivate and support others to improve their health and well-being, providing communities with information and forming groups and developing activities to meet local needs. To register your vote for Altogether Better Programme call 0844 836 9700 or log on to the awards homepage.
Northern Ballet and Phoenix Dance Theatre - competing for Best Arts Project
Lottery funding was used to create a purpose-built centre for dance in Leeds that houses Northern Ballet, Phoenix Dance Theatre, their respective academies - which train in excess of 300 young people - and further and higher education students from local universities. The building has seven dance studios, a studio theatre, wardrobe facilities, a health suite, meeting rooms and offices. To register your vote for Northern Ballet and Phoenix Dance Theatre call 0844 836 9674 or log on to the awards homepage.
There are seven categories in the Awards each reflecting the main areas of Lottery funding: arts, sport, heritage, health, environment, education and voluntary/charity. The winning project in each of the categories will receive national recognition at a star-studded event later this year, broadcast on BBC One, as well as a £2,000 cash prize to spend on their project.
Voting for the semi-finals starts at 9am on Tuesday 31 May and ends at midday on Monday 20 June 2011. For more information or to cast a vote for any of the semi-finalists log on to the awards homepage.
• Calls cost no more than 5p from a BT landline. Calls from other networks may vary, calls from mobiles could cost considerably more. Callers are advised to check with their telephone network provider to be certain of the cost. No profit will be made from the cost of the phone vote by The National Lottery
• All voting will be independently adjudicated and verified by Electoral Reform Services
Related Internet Links
The BBC is not responsible for the content of external sites.