Yorkshire's Bramham House 'at risk', says heritage group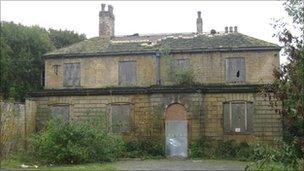 A former children's home in West Yorkshire has been described by a conservation group as a "building at risk".
Bramham House is to be included in a book detailing 100 forgotten historic buildings across the UK.
SAVE Britain's Heritage's Take a Chance on Me highlights buildings that the group believes should be rescued.
Built in 1806 as a vicarage, it became a children's home in 1947 and has been disused since the early 1980s.
Bramham House is currently offered for sale by Leeds City Council.
William Palin, secretary of SAVE Britain's Heritage, said the building is "in a fairly desperate state".
"It needs some kind of plan to bring it back to life," he added.
SAVE describe Bramham House as a "key building" in the Bramham Conservation Area and capable of re-use, with three acres of gardens.
The house is listed as retaining generously proportioned rooms and an elegant skylight above the staircase, despite some vandalism.
It is the only derelict building in West Yorkshire to be selected for the book and the organisation hopes it will lead to it being rescued.
The house was originally built for the Vicar of Bramham, Robert Bownas, and was then bought in 1814 for £3,000 by James Lane Fox of nearby Bramham Park.
He gave the house to his son, George, as a wedding present.
George Lane Fox then sold the house in 1856 to settle large debts, many of them from his gambling.
After that the house changed hands several times before it was bought by the then West Riding of Yorkshire Council in 1947 as a children's home.
Related Internet Links
The BBC is not responsible for the content of external sites.