Transwaste fined over ex-soldier's severed arm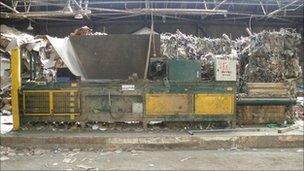 A former soldier from Hull who returned unscathed from active service in Bosnia was maimed for life at work as a "civvy" back home, a court has heard.
Ray Wright, 34, had his right forearm severed in a baling machine while working at the Transwaste Recycling site at Hessle Dock in April 2009.
A protective guard had been damaged and replaced with a makeshift one, Beverley Magistrates' Court heard on Wednesday.
Site operator Transwaste Recycling and Aggregates Ltd was fined £12,000.
The company, based at Melton in East Yorkshire, was also ordered to pay £6,408 costs after admitting a breach of the Provision and Use of Work Equipment Regulations.
Health and Safety Executive inspector Chris Chambers, who investigated the incident, said: "This was a devastating injury and is one that will have a life-long impact on Mr Wright.
"But equally shocking is that it could so easily have been avoided had the company made sure the dangerous moving parts of this machine were properly guarded.
"The firm operates in a high-risk industry which recognises the well-known dangers of baling machines and the history of serious and fatal injuries associated with their use."
The court heard that Mr Wright was injured after tripping on a scaffold tube in front of the machine and put his arm out to break the fall. However, his arm went into the baling chamber and was severed between his wrist and elbow.
Surgery to re-attach the limb was unsuccessful and he now has a prosthetic arm.
Mr Wright, a qualified mechanic and HGV driver who served in the Royal Logistics Corps, was part of a UN peacekeeping mission in Bosnia in 1999 and 2000.
He has since returned to work with Transwaste in a different job.
After the hearing, he said: "The injuries I suffered at work have had a serious impact on my life and I can no longer do a lot of the things I used to take for granted.
"Before the accident I used to repair my car and do DIY, help out friends and family and play sport. Now I even struggle to do simple things, such as cooking, eating and getting changed.
"I am determined to carry on with my life as best I can, in the circumstances, and am still working at Transwaste in a different job although every day is still a challenge."
Related Internet Links
The BBC is not responsible for the content of external sites.