Bradford Gypsies and travellers angered by waste plans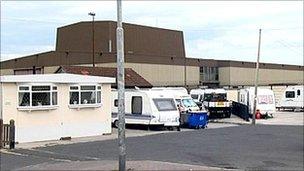 Gypsies and travellers in Bradford have said they are angry at plans to expand a waste treatment plant near their homes.
Bradford Council hopes to enlarge the Bowling Back Lane waste plant, located directly adjacent to the Mary Street caravan site.
Residents claim it shows the council's disregard for their well-being.
Bradford Council said it had taken the travellers' views into account, and more consultations were due soon.
The expanded waste facility is due to open in mid-2015, with two companies now bidding to build and run it.
One resident of the Mary Street caravan site, who declined to give her name, said they were already affected by noise and fumes and the expansion plans were a step too far.
She said: "People who live here pay rent and pay council tax.
"Surely that money should be reinvested to make sure their house is a nice place to live?"
Another Mary Street resident, who also wanted to remain anonymous, said the plans revealed Bradford Council's attitude to Gypsies and travellers.
She said: "We're travellers so they put us anywhere, just out of the way."
Meetings and an exhibition about the proposals were held in the area surrounding the waste plant in November.
But Riaz Ahmed, Liberal Democrat councillor for Bradford Moor, said he believed the consultation with the travellers was flawed.
He said: "They were not consulted, they were told."
In a statement, a spokesman for Bradford Council said: "We held meetings with the Gypsies, and the bidders also visited the Mary Street site.
"The bidders took their views into account when they revised their designs.
"Once a decision on the preferred bidder has been made, a further series of consultations and information events will be held."
Related Internet Links
The BBC is not responsible for the content of external sites.