Leeds awaits trolleybus scheme decision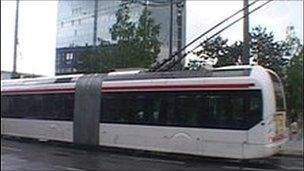 Leeds is still waiting to hear about plans for a modern £245m trolleybus scheme, first discussed in 2007.
If approved, the new trolleybus network would link two park-and-ride sites at the edge of Leeds with the city centre.
A trolleybus has rubber tyres and runs on overhead electric power, unlike a tram which runs on rails in the ground.
The cities of Bradford and Leeds were the first in the UK to introduce trolley buses 100 years ago in June 1911.
Bradford was also the last place in the country to run trolleybuses using them until 1972.
In May this year Leeds City Council approved a bid to go to the Department for Transport.
Leeds City Council claimed the new scheme could generate around 4,000 jobs in Leeds and the wider city region, as well as around 1,000 jobs during the construction.
The council expects that a government decision will not be made until after September 2011.
Stanley King, a former Bradford councillor and member of the transport committee, who is a trolleybus enthusiast, said: "I hope the new Leeds scheme happens, the system would be a catalyst for the rest of the country and show everybody how easy it would be to run."
In the early years of the 20th Century in Bradford, public transport services to outlying villages were thought to not justify the cost of a tramway and trolleybuses, already running in continental Europe, were seen as a cheap and reliable system.
The first route introduced in Bradford was from Laisterdyke to Dudley Hill.
The Bradford corporation of the time even had its own electricity-generating works so power for the buses was cheap, and the surplus power was used to provide some of the city's domestic electricity.
Mr King said: "Bradford is hilly and that was ideal for the system. The buses used electricity only when accelerating; they climbed hills surprisingly well."
At the system's peak there were 47 miles of route and around 200 trolleybuses in the city.
On the main route there was a bus about every three minutes, and Mr King remembered "an endless procession of trolleybuses".
Related Internet Links
The BBC is not responsible for the content of external sites.