Leeds vicar still preaching at the age of 100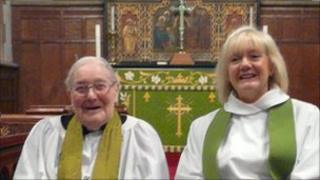 A Church of England vicar in West Yorkshire who is about to reach the age of 100, is still actively involved in church services.
Canon John Clayton's remarkable 76 years in ordained ministry continues as he preaches once a month at his local church in Leeds.
Canon Clayton was born in Leeds in June 1911 and studied at Leeds University and Wells Theological College.
He was ordained at Wakefield Cathedral in 1935.
Now, 76 years later, he continues to preach once a month at Evensong at St Giles Bramhope, near Leeds, as well as leading a monthly service of Holy Communion on Thursday mornings.
The canon's first curacy was at St John the Evangelist, Dewsbury Moor.
'Fitting celebration'
A special service of Holy Communion to celebrate his 100th birthday is to be held at St Giles Bramhope, near Leeds on Sunday 12 June at 1500 BST.
Bishop John Packer will lead the congratulations and tributes.
He said: "It is always a delight to be at Bramhope and to meet John Clayton.
"His pastoral concern and prayerful leading of worship remain an example to all of us, and this will be a fitting celebration of lifelong service to his Lord."