Leeds United museum planned to celebrate club's history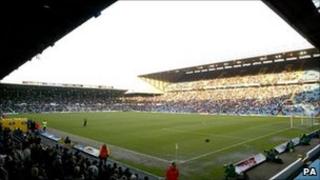 Plans by Leeds United to open a museum charting the highlights and low points of the football club could be given the go ahead by councillors next week.
The club, which was formed in 1919, hopes to open its extensive archives to the public as part of re-development work at Elland Road.
If approved the museum would open at the end of the year.
Paul Dews, from Leeds United, said: "We have to tell the club's story, remember the bad times and celebrate the good."
'Hidden gems'
Mr Dews said the re-development of the East Stand was a "fantastic opportunity" to finally put items of Leeds United memorabilia on show which had not been seen for many years.
He said: "While we show a lot of trophies, pennants and mementos, we have a secret location - the archive room - which is absolutely bursting with hidden gems from the past."
Leeds United became one of the top teams in England under the management of Don Revie in the 1960s and 70s.
Revie's team, which starred international players such as Billy Bremner, Johnny Giles, Jack Charlton, Peter Lorimer, Norman Hunter and Allan Clarke, won the league in 1969 and 1974 and also won the FA Cup, League Cup and two European trophies.
Leeds won the league again under Howard Wilkinson in 1992 but in more recent years have been relegated two levels to League One amid major financial problems - though they were promoted to the Championship in 2010.
David Gaertner, from Leeds United Supporters Club, said he welcomed the proposed museum as "long overdue".
"Fans live on the club's history and without history you're nothing," he said.
"We had a glory period in the 1960s and 1970s, and again in the early 1990s, and that should be on display."
As part of the museum's collection, Leeds United said it would ask fans to loan their own club memorabilia for display.
Councillors will consider Leeds United's plans at a meeting on Thursday 16 June.