Fairburn Ings staff battle Himalayan balsam 'invasion'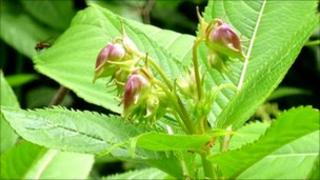 Staff at a West Yorkshire nature reserve have said they are battling an "invasion" by foreign plant life.
Recent very cold winters and very warm springs have provided ideal conditions for Himalayan balsam to thrive at Castleford's Fairburn Ings reserve.
Staff are now calling for volunteers to help clear the reserve of the fast-growing and invasive weed.
Karen Swaffield, a warden at Fairburn Ings, said: "Left unchecked, this plant could spell disaster."
Himalayan balsam was introduced into the UK in the 1830s and has since taken root across much of the country.
Every year staff at Fairburn Ings pull up the balsam in an effort to control its spread, but this year they say the problem is worse than ever.
'Strong smell'
Ms Swaffield said Himalayan balsam was a real threat to native plant and flower species at the RSPB reserve.
"Its pretty pink flowers have a really strong smell and lots of sweet nectar, meaning it attracts bumblebees, butterflies and other insects," she said.
"This sounds great but it means the insects spend less time pollinating our native wild flowers."
Volunteers are now being asked to come forward to help clear Fairburn Ings of Himalayan balsam at an event on 18 June.
Ms Swaffield said: "The problem is that there's so much of it.
"It is important we get it now, before the exploding seed heads form and start popping thousands more seeds all over the reserve."