West Yorkshire rape accused Pc's life 'devastated'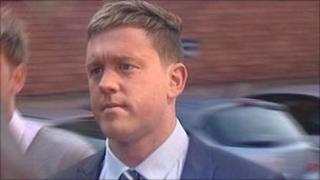 A police officer and former Mr Gay UK has told a court allegations of rape and sexual assault have had a "devastating" impact on his life.
Pc Mark Carter, 28, from Bradford, is accused of sexually assaulting three men and raping a fourth while on a Christmas night out with colleagues.
Giving evidence at his trial at Leeds Crown Court he said he had "embarked on an absolute living nightmare".
The West Yorkshire officer, of Station Lane, Birkenshaw, denies the offences.
He had been on a Christmas celebration with colleagues on 18 December in Leeds when he met a man in the Loft Bar.
The court heard they went back to the Etap hotel, where it is alleged he dragged the man by his hair and raped him.
Mr Carter said: "I'm not a violent person.
"We had gone back for mutual pleasure, a sexual encounter. I didn't take him back to beat him up."
'Spend day together'
The jury was told the alleged rape victim fled the hotel by a fire escape while Mr Carter took a shower, and alerted a passerby.
Mr Carter said: "I first thought 'charming'. We had this sexual encounter and I was under the impression we would spend the day together or give him a lift home or get lunch."
He said he was surprised when he heard a knock on the door and opened it to find police officers outside his hotel room.
Mr Carter also denies carrying out a number of sexual assaults prior to going to the hotel room.
He told the court the gay scene could be "bitchy" with "drama queens who make things up".
The trial continues.