NHS HQ to be based at Quarry House in Leeds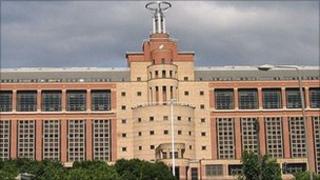 A new central executive that will control health budgets in England is to be based at Quarry House in Leeds, the Department of Health has confirmed.
The new National Commissioning Board will take over running the finances of the National Health Service until GP consortia ultimately take control.
The move is part of the government's proposals to reform the NHS.
Union Unison said the move would not create additional jobs within the NHS.
The new body, once fully functioning, would look after the contracts of independent contractors like GPs and pharmacists - in effect becoming the headquarters of the new-look NHS.
Union scepticism
But the move, which is expected to see 1,000 health service managers in post, has been given a sceptical response from Unison.
John Cafferty, the Unison spokesman responsible for health service issues in Yorkshire, said the jobs at the new board were "a drop in the ocean" compared to the number of NHS staff facing job losses.
Mr Cafferty said: "The 1,000 jobs is effectively a drop in the ocean.
"It's not going to really help the economy, the NHS economy in Leeds and it's certainly not going to help the NHS economy in the rest of the wider region.
"There's going to be people currently employed in the NHS that will be on the dole next year, this time."
The NHS bill will now go back to the committee stage in the House of Commons to be scrutinised again by MPs before going through its House of Lords stages.
The prime minister's official spokesman said he expected that to happen before the summer recess began in July, and the bill to be on the statute book by the end of the current parliamentary session.
That gives ministers until May 2012 to make it law.