Police in Leeds given River Aire rescue training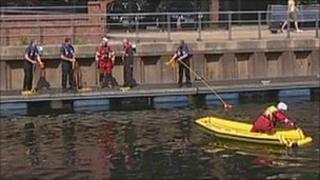 Police officers in Leeds have been given rescue training to help cut the number of drownings in the River Aire.
The training, which has been taking place on Leeds waterfront, aims to make sure officers have the skills to recover a victim while staying safe themselves.
Officers are also given a buoyancy aid and rope to carry in their patrol cars.
At least eight people are thought to have drowned in the River Aire in the centre of Leeds in the past four years.
'Instant decisions'
Ch Supt Mark Milsom, from West Yorkshire Police, said he believed the training was essential.
"Our officers regularly patrol this area and they are often first on the scene," he said.
"They have to make instant decisions about what they are going to do where people's lives are at risk.
"This training will result in more people's lives being saved."
Kathryn Stoner, sister of Robert Stoner, 30, who drowned in the River Aire in Leeds city centre in February 2011, described the rescue training as "absolutely fantastic".
"Now, if there's even just a little incident and a police officer is walking by then they are going to be able to help," she said.
About 100 officers have started the training, which is being given by West Yorkshire Fire and Rescue Service.