Action urged over newborn's death at Dewsbury hospital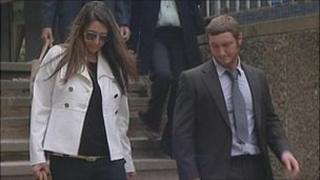 The parents of a baby who died after his delivery was delayed for 61 hours in hospital are calling for urgent action to prevent a similar tragedy.
Sarah Dawson and her partner Philip Schofield were speaking after a coroner recorded a narrative verdict at the inquest on their son Oliver.
The couple's lawyers said they wanted "urgent action" after a criticism of care at Dewsbury and District Hospital.
The hospital trust said it would be reviewing a coroner's recommendations.
Assistant Deputy Bradford coroner Paul Marks criticised aspects of Oliver's care at the hospital saying the delay in inducing labour materially contributed to the newborn's death.
Ms Dawson, 34, from Morley, Leeds, said: "Philip and I have been completely devastated by the loss of our son and it is horrible to know that his death was due to a simple lack of care being available to us when we needed it.
"I find it hard to get through each day knowing that Oliver should still be with us.
"Changes need to be made to prevent this from happening in the future.
"No-one else should have to go through what Philip and I have."
Law firm Irwin Mitchell said the inquest heard how Ms Dawson was taken into hospital after her waters broke on July 12, 2010.
'Policy change'
Oliver was born by caesarean section 61 hours later.
He died shortly after due to an infection he had developed during that period.
The inquest heard how a series of factors contributed to the delay including a policy of first leaving mothers for 24 hours to see if natural birth will happen.
This was followed by another wait because of a policy that avoids assisted births at night.
Further problems then arose with staff and equipment not being available.
Irwin Mitchell said the coroner was planning to write to the Mid Yorkshire NHS Trust to outline his concern.
Suzanne Munroe, from Irwin Mitchell, said: "Urgent action must be taken to change the policy so that patients are able to be induced in the evening or at the latest the following morning.
"Nothing can ever be done to turn back the clock, but Oliver's family want to know changes are being made to prevent this kind of tragedy in the future."