Sculpture made from 28,000 nails unveiled in Bradford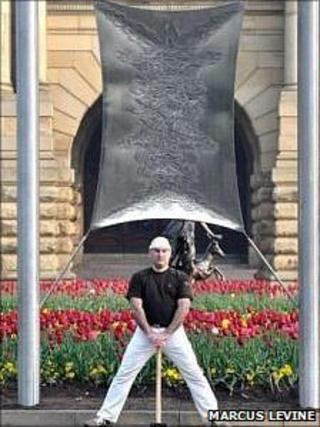 A sculpture made from 28,000 nails hammered by hand into a steel panel has been unveiled in West Yorkshire.
The art work, called Hung Out to Dry, was created by Bradford artist Marcus Levine and has gone on show outside the city's Cartwright Hall.
Mr Levine, 45, said the sculpture had taken eight 14-hour days and one 13-hour day to complete in his studio.
He said: "By the end of it my hand was numb and my fingers were black-and-blue with bruises."
Commissioned by Bradford Council, the sculpture stands 16.4ft (5m) high and features a shaped stainless steel panel hung between two giant steel "nails".
Mr Levine, who was born and educated in Leeds but now lives in Bingley, said the commission had been a "challenge".
"It's not something that's been done before, so there was a lot of head scratching," he said.
"It certainly wasn't quick or easy. It was a bit mad."
'Local show'
Mr Levine said by using thousands of nails in his sculptures he was creating "a sort of artistic braille".
He said he hoped Hung Out to Dry could be enjoyed by anyone, including the visually impaired.
"It is a unique way of enjoying a three-dimensional yet flat image," he said.
"People can run their hands across it and get something from it that they can't get from other sculpture."
Mr Levine completed his first "nail sculpture" in 2004, and his work has been exhibited in London.
He said it was "fantastic" to show one of his art works in Bradford.
"While I have exhibited in London, family and friends can't get there easily so it's good to have it on show locally," he said.
Mr Levine said he had been approached to create a sculpture for the City Park which is currently being built in the centre of Bradford.