New Leeds signs to warn of major road closures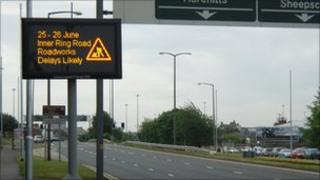 New traffic information screens in Leeds are being used to warn drivers about major roadworks starting in the city.
The 11 high-definition screens will display warnings at junctions on the approaches into the city centre.
The repairs will take place over 14 weekends beginning on Friday 24 June.
Gordon Robertson, traffic manager for Leeds, said: "The signs will come into their own with a series of weekend closures on the inner ring road."
Mr Robertson is manager of the city council's urban traffic management and control centre.
'Big impact'
Leeds is the first place in the UK outside of London to use this flexible technology.
Mr Robertson added: "The signs are small but have a big impact and can give an exact message."
Urgent repairs are needed to Woodhouse Tunnel running underneath Leeds University and Leeds General Infirmary.
The work will replace defective concrete on the tunnel roof that has deteriorated because of the salt used in road grit.
One side of the tunnel will be closed in each direction on the affected weekends, from 2000 BST on Friday until 0500 BST the following Monday.
After one month in operation the technology has already been used several times to warn motorists of accidents and lane closures on the inner ring road.
Built during the 60s and 70s as the city's inner urban motorway, the ring road carries about 75,000 vehicles every day.