Wharfedale's new nature reserve attracts the wildlife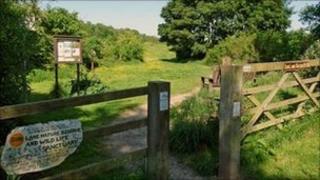 A new nature reserve will be officially opened later at Sun Lane in Burley-in-Wharfedale.
The popular site is predominantly flower-rich grassland with peripheral trees, scrub and a small watercourse.
Around 350 plant and 25 butterfly species have been recorded there as well as dragonflies, damselflies, a range of birds, amphibians and small mammals.
Bradford Council, in consultation with Natural England, designated the site a Local Nature Reserve (LNR) at the beginning of 2011.
Councillor Dale Smith, who will formally open the reserve at 1000 BST, said: "The transformation of the site has been extraordinary and the venture has been supported by a number of local community groups and volunteers.
"I am confident that people will make good use of it, whether to learn about nature or to unwind."
Councillor Ghazanfer Khaliq, Bradford Council's executive member for environment, said: "We are delighted that Sun Lane has been designated a Local Nature Reserve.
"This status reflects the importance of such areas to both nature and people, and I hope that the local community will continue to enjoy this well loved site."
Sun Lane is a former Council tip that was reclaimed in the 1970s. It became apparent that pollution from the landfill was leaching into adjacent watercourses and in 1993 Bradford Council undertook a £1m scheme to restore the site.
The landfill was capped and a reed-bed purification system that adds to the reserve's biodiversity was installed.
Then in 2003, the Burley Village Wildlife Group, in partnership with Bradford Council, began conservation work to enhance its biodiversity.
The group has been vital in preparing the site for the LNR designation and it takes part in ongoing conservation work there twice a month.
Sun Lane is the second LNR to be designated in the Bradford district, coming in the wake of one at Railway Terrace in Low Moor which officially opened in 2008.