West Yorkshire Pc Mark Carter cleared of rape in hotel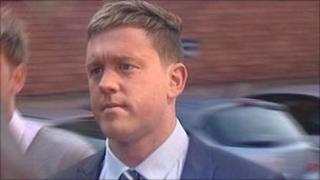 A police officer and former Mr Gay UK has been cleared of raping a man and carrying out sexual assaults on two others.
Pc Mark Carter, 28, from Bradford, had been on trial at Leeds Crown Court accused of the assaults while on a Christmas night out with colleagues.
The jury failed to reach a verdict on another sexual assault charge.
A decision on whether to proceed with a retrial on the charge will be made next week.
'Not violent'
During his trial, the court was told Mr Carter, an officer with West Yorkshire Police, had been on a Christmas celebration on 18 December in Leeds when he met a man in the Loft Bar.
The pair went back to the Etap hotel where it was alleged Mr Carter dragged him by the hair and raped him.
Giving evidence, Mr Carter, of Station Lane, Birkenshaw, said: "I'm not a violent person.
"We had gone back for mutual pleasure, a sexual encounter."
The officer described to the court the effect the allegations had had on his life, saying: "It turned my life upside down. I embarked on an absolute living nightmare."
As well as denying rape, Mr Carter denied carrying out three sexual assaults prior to going to the hotel room.
He told the court the gay scene could be "bitchy" with "drama queens who make things up".