Closure of Tetley's brewery marked with 'wake'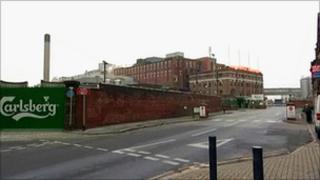 A "wake" has been held to mark the closure of Tetley's brewery, in Leeds.
The local branch of the Campaign for Real Ale (Camra) met at midday on Saturday outside the brewery gates to hold a silent "wake".
Chairman John Rowe said: "It is with much regret that we see Tetley's leaving the city of Leeds, especially for employees at the brewery."
The closure of the brewery, which has been on the same site since 1822, resulted in the loss of 170 jobs.
Parent company Carlsberg announced the closure in 2008.
It claimed the beer market faced the "perfect storm of falling consumption, increasing costs and rising tax".
Tetley's is one of Leeds's oldest companies and the city has a long history of brewing.
At the time of World War I there were about 20 breweries in Leeds.